News
Project ModuLA: Information from planning to operation | 06.02.2019
Linking all the Information from the planning and operation phases requires a continous and consistent information model for the entire life cycle. Project ModuLA started end of 2018 to work out the specifications for this integrated approach.
weiterlesen
ENPRO once more at the PAAT meeting | 10.11.2015
This year presented the initiative ENPRO a large proportion of the scientific program of the Annual Meeting of ProcessNet Section "Process, Apartus- and Plant Engineering (PAAT)" on 16 and 17 November 2015 Bruchsal. Prof. Kockmann gave on Tuesday, 11/17/2015, an overview of the ENPRO idea and subsequently showed the individual projects their current results.
weiterlesen
1st ENPRO day was a great success | 29.06.2015
On the 24.06.2015, over 50 experts from the ENPRO initiative met at DECHEMA in Frankfurt am Main, Germany, to discuss the latest results. A World Café was held during this meeting, debating the current developments and developing ideas for the further progress.
weiterlesen
Smart Miniplants for the Development of Efficient and Continous Separation Processes
Continuous production of bulk chemicals is state of the art, offering multiple advantages related to the efficient utilization of energy in the process, a constant product quality, and safe handling of hazardous components or processes. Thus, continuous production of fine chemicals and pharmaceuticals is of growing interest due to rapidly growing markets, limited resources, and ambitious climate targets.
The project ENPRO 'SMekT' (Smart Miniplants for Efficient Continuous Separation Processes) aims at utilizing the potential of continuous production for specialties manufacture. Furthermore, a project's goal is to significantly accelerate the realization of new production concepts. Therefore, flexible small-scale equipment will be designed, allowing for developing continuous processes on lab-scale. By choosing this miniaturized scale, the demand for energy and raw materials is low during development phase. Additionally, the effort for engineering, construction, and start-up of the plant is significantly reduced compared to pilot and production environment.
Fine chemicals and pharmaceuticals products usually have high melting and boiling temperatures and low thermal stability compared to typical bulk chemicals. The SMekT project is therefore focused on developing equipment for continuous crystallization processes from solution, which is a thermal separation process being operated at mild conditions. Moreover, the process steps of continuous solid/liquid separation and continuous washing of crystals are represented in the project. The lab-scale plant will be equipped with typical materials of production-scale apparatuses, non-invasive sensor technology and modern process automation. Supported by simulation and benchmarking tools for the consumption of energy and resources, a direct scalability of results from lab- to production-scale is aimed to.
Members of the SMeKt Team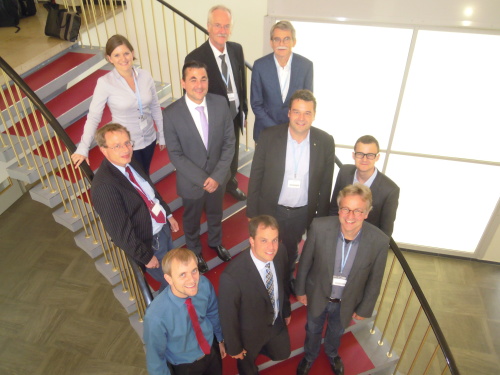 Back row: Ms. Löbnitz (KIT), Prof. Zang (HiTec Zang), Dr. Handl (DECHEMA)
Midlle row: Dr. Kusserow (HiTec Zang), Mr. Stier (Evonik), Prof. Kockmann (TU Dortmund), Mr. Hohmann (TU Dortmund)
Front row: Mr. Wiese (SONOTEC), Dr. Stenger (Evonik), Prof. Nirschl (KIT)
Project Start 1st January 2014
Run time 36 Months