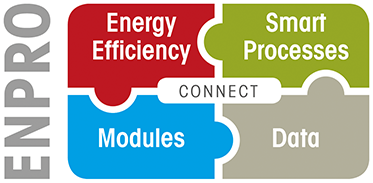 ---
Exchange Platform for the Iniative "Energy Efficiency and Process Intensification in the Chemical Industry"
ENPRO-Connect creates an exchange platform for all projects within the ENPRO iniative. This project is led by DECHEMA e.V., Frankfurt am Main (Germany) and its main purpose is to coordinate and disseminate the outcome of the individual scientific projects. Therefore, status conferences, and recurring technical meetings will be organised and joint publications will be elaborated and released.
By interconnecting the projects and their individual partners, synergies will be created and an easy comparison of the results will be made possible. The value of the findings will be further increased by a joint evaluation through the project partners. For example the nomenclature of the same eqipment might deviate strongly in two industries. Standardization can therefore help to overcome obstacles and to accelerate the implementation of new processes - and this is the basic idea of the ENPRO iniative.
DECHEMA is serving as public contact for all general topics regarding ENPRO. Are you interested in a colaboration? Do not hesitate to contact us with your request.

---
© DECHEMA e.V. 1995-2007 alle Rechte vorbehalten